Live Training Dates |
Sat & Sun January 22-23rd
Sat & Sun January 29-30th, 2022
Restorative yoga is a profound experience of relaxation.
​
At the surface of the pose, there's a lack of activity. Each shape is generously supported with props and held without effort for an extended time. Our focus is not even on stretching, but on "opening" the body by releasing tension into spacious comfort. Yet, as the practitioner descends into a restful state, the blissful comfort of the pose becomes a catalyst for a transformational process. 
​
Restorative yoga facilitates the recalibration of our nervous systems. It shifts us from a dull but constant state of stress (our sympathetic or fight/flight/freeze response), towards a more healing & integrative state (our parasympathetic or rest & digest response).
​
The subtle vibrations of stress below the walls of our skin grow gradually more quiet as our breath & heart rate grows steady & calm. The down-regulation supports our digestive & immune systems as the whole body rebalances in rest. The support is not just experienced on the level of physicality, but mentally & emotionally that support is felt as well. We become whole. Our physical tensions also dissolve with time & awareness and after Shavasana the body might feel as if its been satisfyingly stretched, however, we never lengthened muscle or overly extended our joints.
​
This practice is ideal for processing & releasing the stress of modern life. In this way, restorative yoga is helpful to all people and is an accessible practice for students of all levels of experience or fitness. But restorative yoga is particularly beneficial for students who may struggle in other styles of yoga -  students with stress, chronic pain, fatigue, digestive issues, poor immune function and even those recovering from a severe injury, Perhaps one of the most important applications of restorative yoga is supporting students with generalized anxiety disorders, who may find that a regular restorative yoga practice can help them to re-pattern their stress responses. 
​
While restorative yoga may seem "easy" because it requires the least physical effort & accommodates the body with as much support as possible, I have often witnessed many individuals who move with ease through vinyasa flow, but really struggle to access that same state of being in relaxation. Through this practice, we learn that true relaxation is a skill to be cultivated and a doorway to wellbeing. 
About the Online Training
​
The course will be facilitated as a 4-day immersion, divided over two-weekends so most can attend without requiring time away from life's commitments.
On training weekends, each day will include 6 hours of YTT (five hours of lectures, closing with a one-hour guided restorative practice). Mid-day, you can relax during an hour & a half break. In between our two course weekends, you will also enjoy three mid-week restorative practices designed to help you experience all the benefits of this offering.
​
To complete the course, you only need a device with an internet connection. Your textbook, lesson plan, pose tutorials, guided practices, and additional content will be available on Teachable. Teachable is a professional education platform where I design your daily schedule. This system will be your course companion, which you will have access to for the next six months following your training dates.
As you open each class, you will find the live zoom links to connect with our class directly. Live lectures (five hours daily) will be delivered live via zoom to allow a more interactive learning experience. You will only require a basic zoom account (free). The only section not delivered live is your guided restorative practices.
Before the YTT, I check in with each student individually to make sure they are set up and have easy access to the tech. These systems are very user friendly and you will be fully supported.
Students will receive a very comprehensive textbook written and compiled by Eva. You can access the digital textbook on a device or print it if you choose. 
There will be a daily quiz, final exam and all students must submit a class plan & short video of their teaching. We complete 27-hrs of training together. These assignments are accounted for as your final three hours of training. 
If you select the course certification option, I will review your exam, class plan & practicum and supply you with some supportive and personalized feedback. I truly take my time in this process to give you thoughtful tips, helping you to refine your skills and grow as a Teacher. Once I have reviewed your three assignments, I will send you your certificate!
​
Please note, it is of extreme importance to me to maintain high standards of yoga education and I do not "sell" certification or accreditation hours. You must complete your final assignments to demonstrate safe & beneficial teaching of course principles. 
​
​
The content of the very comprehensive course includes:
​
The Intent, Benefits, & Importance of Restorative Yoga

Restorative Yoga Props & Environment

The Origins of Indian Yoga & Modern History of Restorative Yoga

The Science of Stress - the Sympathetic Response

The Physiology of Rest - the Parasympathetic Response

The Vagus Nerve, Energetic Nervous System & Respiration for Rest

Anatomical Overview of Major Joints and Muscles

Detailed Pose Tutorials of Over 34 Restorative Poses & Variations

Propping and Assisting Students Tutorials

Pranayama & Energetics of Restorative Yoga

Sequencing Principles & Templates to Help Design your Classes

Theming Meaningful Classes & Teaching Language

Case Studies Practice & Therapeutic Applications 

Holding Safe Space
​
​
To complete the practices & properly explore each pose you will need to have the following props available:
​
A Bolster (two if possible, otherwise use one bolster and some pillows from your couch or bed)

2-4 Yoga Blocks (cork for foam is fine)

2-4 Yoga Blankets (wool preferred, but you can improv with what you have available)

A Yoga Strap

You may also like to have an eye-pillow, a small towel and a sandbag

Some poses will require space at the wall or a chair for support
​
​


NEW DATES | August 2021
Online Restorative Yoga YTT
Two-weekend modules
Sat & Sun January 22-23rd
Sat & Sun January 29-30th, 2022
8am - 3:30pm EST (Toronto/New York) for my Canadian & US Yogis
1pm - 8:30pm BST in the UK & here in Portugal
​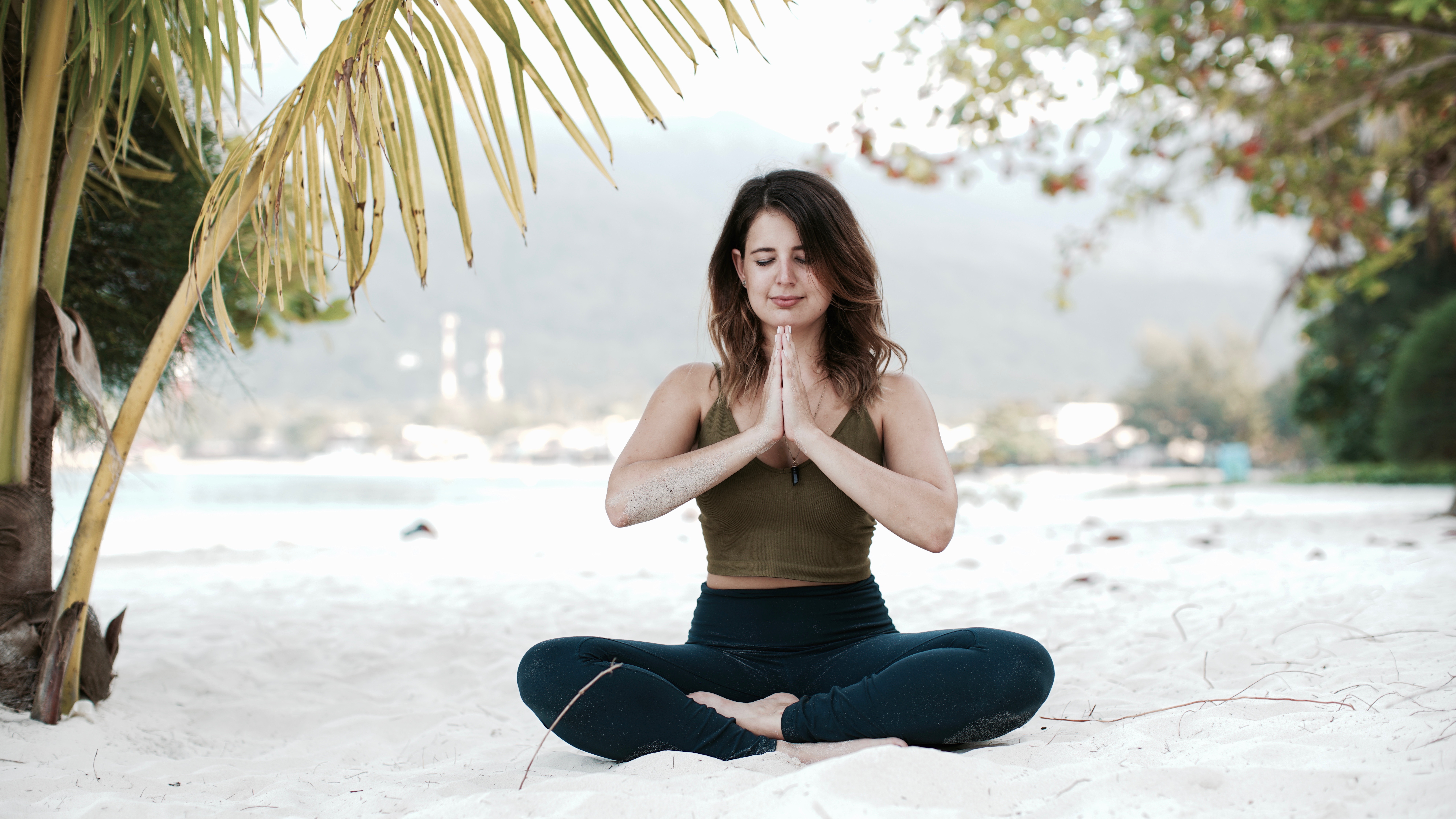 Eva Hamilton is an international yoga teacher (YTT 1000hrs, YACEP). Passionate about yoga since youth, Eva has taught yoga professionally for over twelve years.
Eva is an empathic soul who loves facilitating playful classes & healing experiences. Her intention in teaching is to craft a supportive & nourishing energy for self-exploration. Her own practice is grounded in transforming feelings of anxiety into freedom. Her teaching attempts to help others to do the same.
Eva offers yoga teacher trainings and retreats around the world. She has cultivated a library of her online classes you can join now at www.eva.yoga. She also offers mentorship + one-on-one support for new yoga teachers.
Eva's teaching converges the many styles she's studied, including hatha, akhanda, yin, restorative, yoga tune up®, prenatal, classical kundalini, hatha raja, back care yoga, chair yoga, anatomy & therapeutics, Thai yoga massage and yogic lifestyle coaching. She loves the opportunity to draw on her religious studies degree from Queen's University to unpack yoga philosophy in an accessible & enjoyable way.
Her flow classes seek an attentive balance between mindful & functional alignment, without sacrificing the transformative state of flow that unites body & consciousness with rhythmic breath. Yet, while she enjoys the creative possibilities of a flow based practice, her passion is to help people release stress and anxiety to return to wholeness. Her gentle energy is best known for her restorative & yin practices.
Eva specializes in educating on applied anatomy, yoga philosophy, teaching methodology, posture clinics & alignment, preventing yoga injuries, vinyasa flow, yin yoga, myofascial release and more. She has also developed her own unique 50hr Yin + Myofascial YTT which has now be converted to a new online offering - a 30hr LIVE Yin Yoga YTT.
Eva now lives in Portugal where she continues to share her love and passion for yoga.