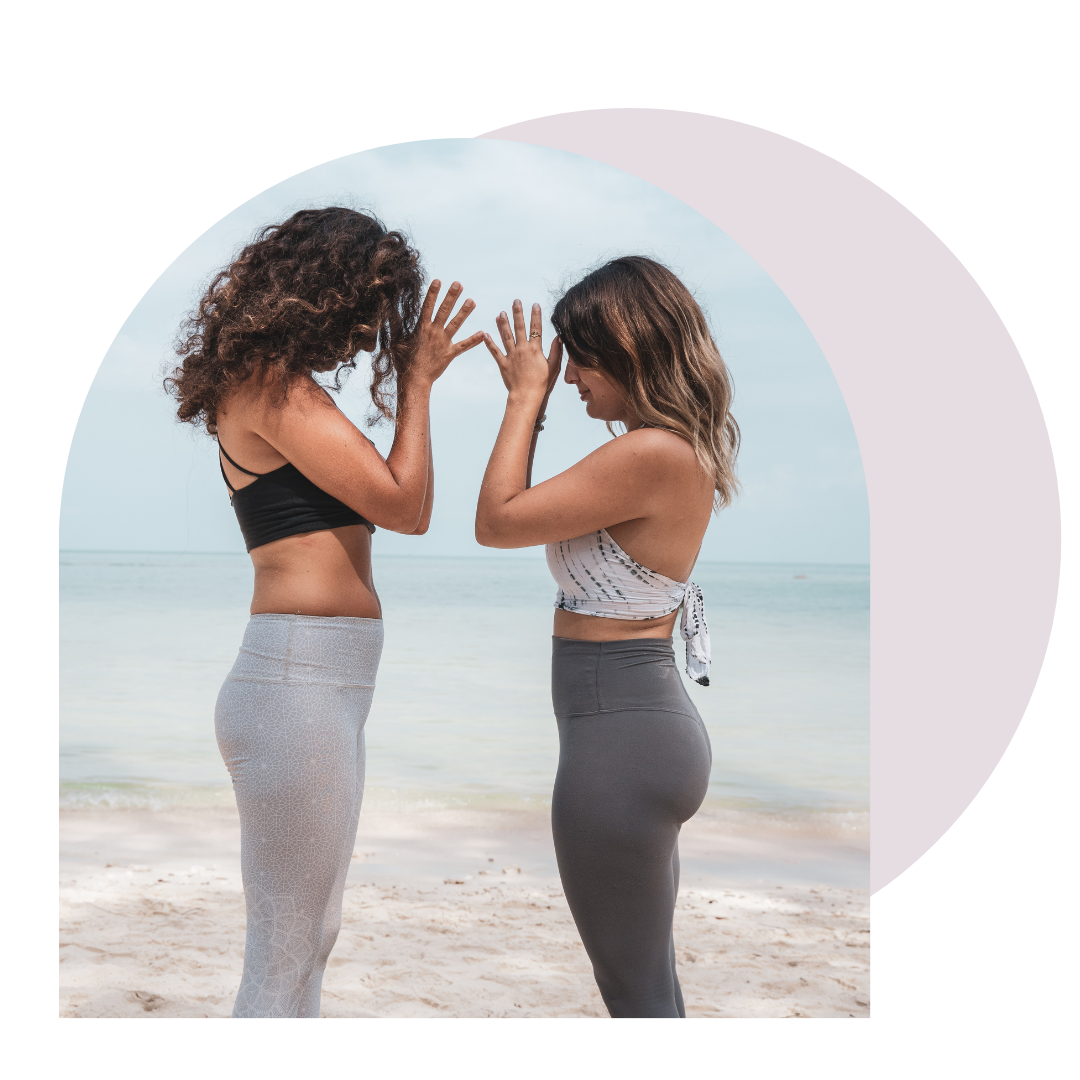 You love teaching yoga and supporting your yoga students.
But as a yoga teacher, I know how difficult it is to create a teaching career that in return supports you.
The standard 200-hr certification is where we all begin, but it is the certificate to begin to study yoga.
And the truth is, we learn a lot in YTT's, but nothing truly prepares you for transitioning into yoga as a career. ⁠
Yet after our initial YTT's, we often feel a little lost and stuck with finding ourselves as teachers and sharing our yoga in a way that feels authentic, as well as supporting our needs and goals.
That is why I have created this new offering. Basically it's a hybrid and the best of both worlds; a new mentorship program for yoga teachers including both one-on-one sessions and the support and nurturing of a small community.
The mentorship will run over a 16 week period from August to November 2021 and include eight live workshops and three private mentorship calls.
We will cover the important things that you want to know and maybe some things that you haven't even thought of yet like:
​
Overcoming Imposter Syndrome i.e. who would want to listen to ME?
​
Setting the foundation of your yoga business, or just getting things back in order
​
Marketing yourself in an embodied authentic way (social media, email, the whole thing)
​
Setting your prices and feeling financially supported from your teaching by exploring new mediums beyond studio classes
​
Getting really clear with your message as a teacher, and allowing it to inspire your visual style and logo
​
Creating a great yoga website and managing your email list (Yes! I'll help you do this with wix)
​
Using my planning templates to design your signature offering, like a class series, workshop, retreat or membership
​
Undoing the overwhelm of the tech of teaching - I'll share my tips for tech, filming and the platforms I use to run my yoga business
​
Designing class planning strategies to keep you inspired as you create sequences, themes and curriculum that you and your students love
​
Upgrading your anatomical confidence and weaving the philosophical wisdom of yoga throughout your classes
​
Dealing with the tough stuff, like addressing cultural appropriation, student communication and boundaries, and physical/mental/emotional burnout
​
Getting smart about your legal and financial responsibilities
​
Looking beyond your drishti into the next phase of what is possible for you as you grow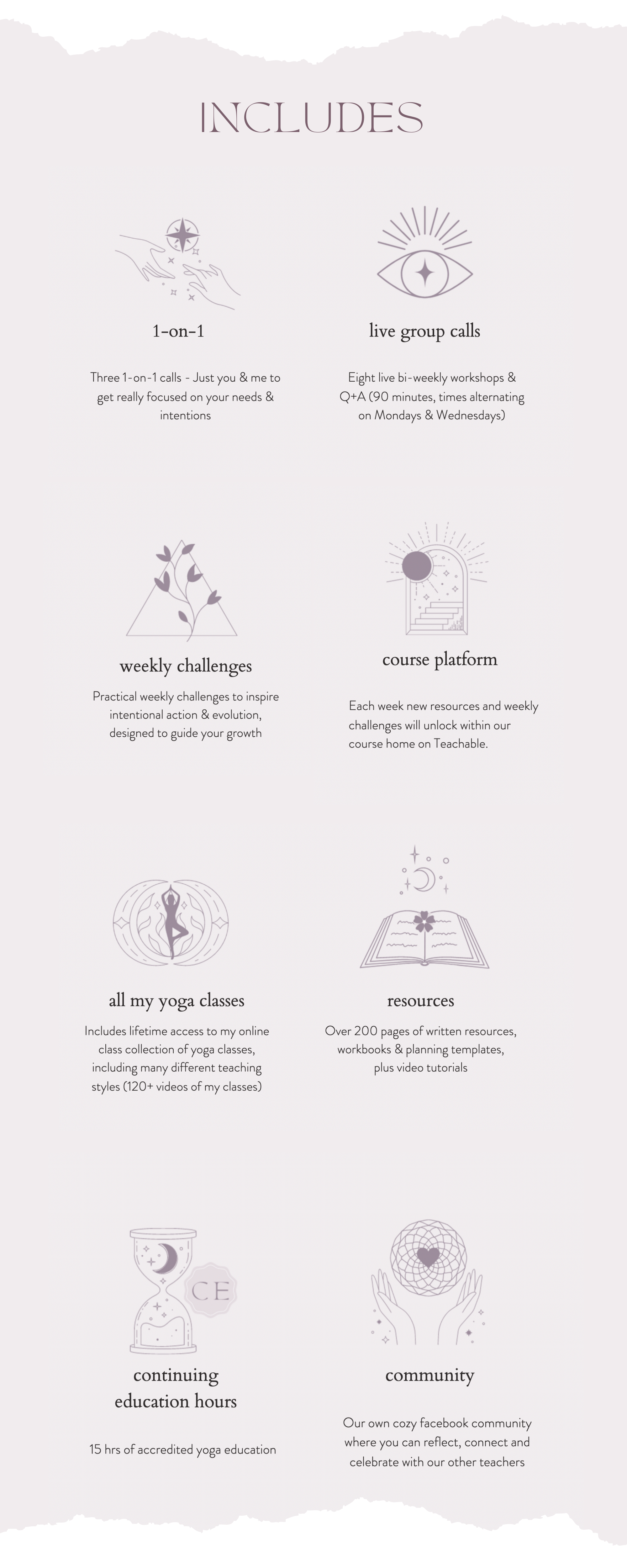 You graduated your 200-hr. (Or maybe you've been at this a while).
​
Congratulations! You have your certificate, thank you for your hard work. 
Okay bye!
​
Does that sound familiar?
Do you feel like you've accomplished this epic milestone and now you have been tossed into the ocean outside the yoga studio? After all, you may have talked about how to start your business during your training–maybe–but it doesn't really feel real until it's TOO real.
And when that realization hits, it's enough to have you crawling under your blankets and cuddling your blocks. Because who is going to help you take those baby steps (or giant steps, if you're feeling up to it) once you've got that piece of paper in your hand?
Often at yoga teachers, it feels like we're on our own. But it's not true.♡
​
Maybe you're freshly minted, trying to find a studio to partner with and people beyond your immediate circle to teach. Or maybe you've been doing this a while, and you have a studio and a group of loyal students. But you're bored. Plateaued. Or just plain old burnt out.
Maybe you're still in a place where in-person teaching doesn't feel right to you, but don't know the first thing about teaching online. Or you have a business that's doing well…yet instead of reaching out and admitting you need some help, you just keep racking up the certificates and credentials so you look like you know what you're doing.
​
I was you once. Equal parts excited and scared that anyone would take her seriously as a yoga teacher, clinging to all of the knowledge she amassed but still not feeling that support and guidance around her. And since I was (am!) a recovering imperfect perfectionist, any thought of making a mistake was enough to get me to freeze in my tracks, making no decision at all.
And that place is not connected to spirit, not in any way healing or beautiful or graceful. It sucks. 
​
This is my Yoga Teacher Mentorship program. For 16 weeks, you have me in your corner, sitting by your fireside, telling you the stories and teaching you the essentials of running your yoga business. Through my video trainings, extensive self-written resources, and a nurturing series of 1:1 calls, we will expand what you thought your yoga teaching experience could be and give it a fertile place to grow.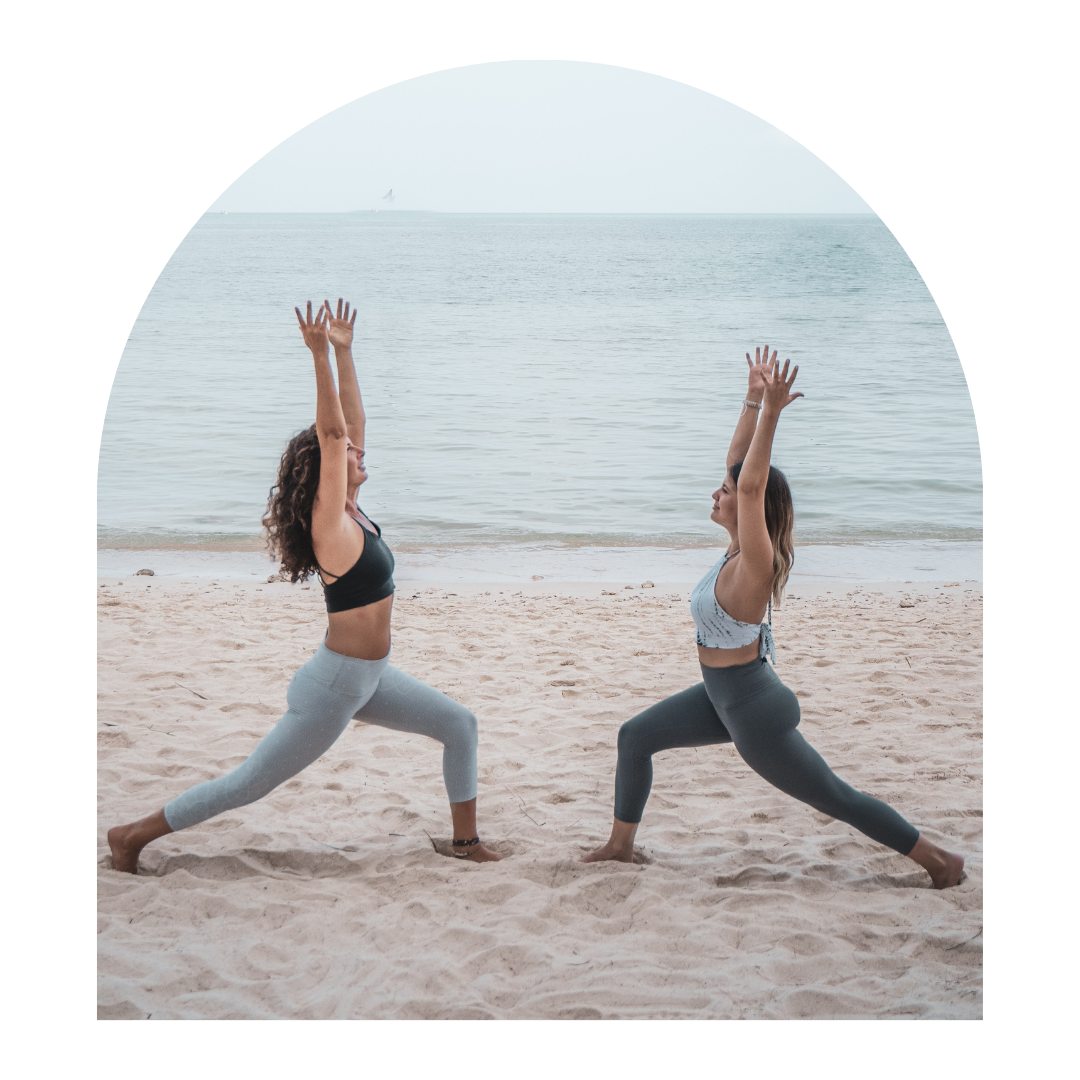 Mentorship benefits...
✦ Teach yoga in a way that protects you from energetic burnout and supports you financially
✦ Build or update your yoga website with clear messaging to really connect with your students
✦ Streamline your class planning process to feel more inspired with your sequences and themes
✦ Feel less stressed with online yoga teaching tech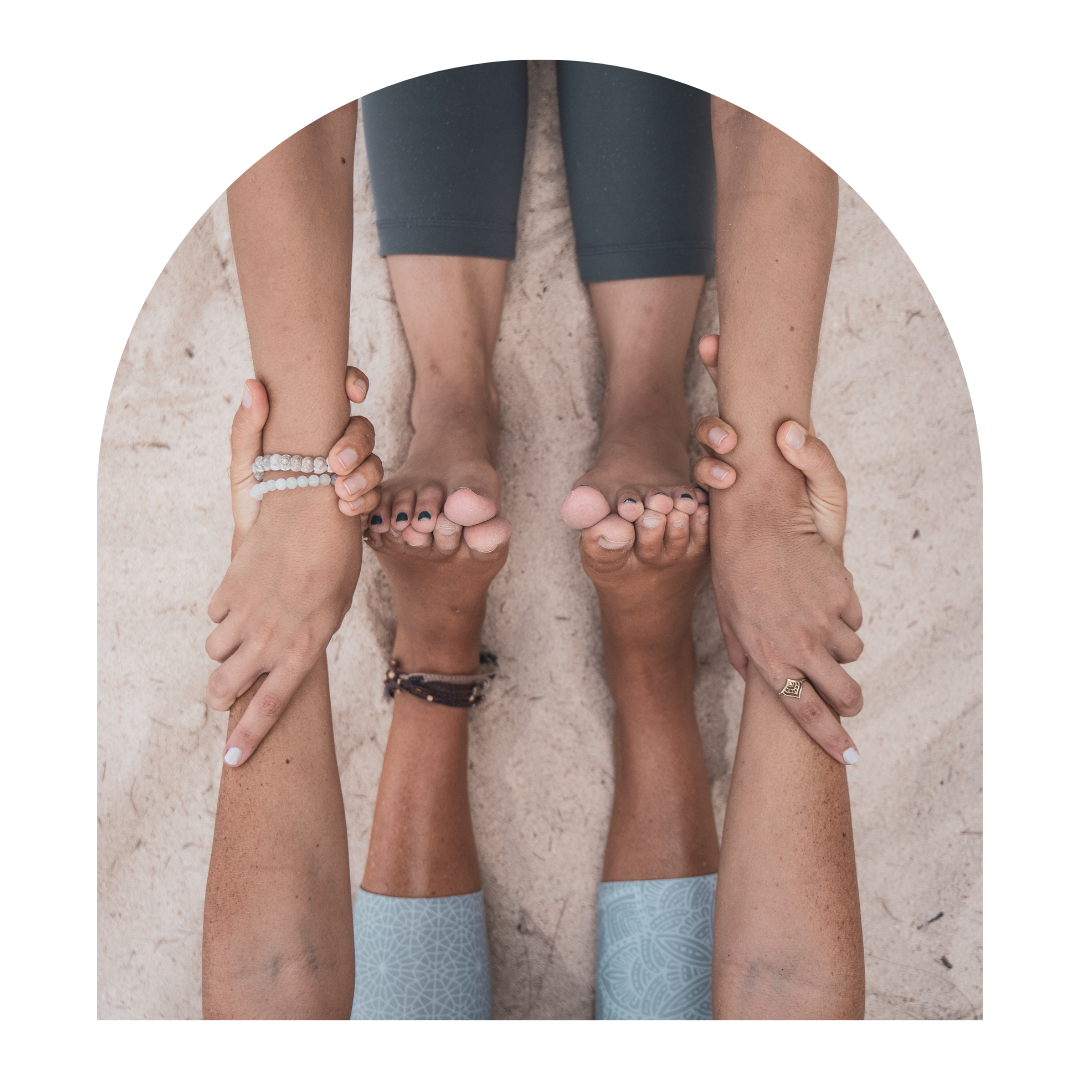 Let me support you to...
✦ Design signature offerings and workshops that showcase your knowledge and passion
✦ Create a unique online yoga membership platform & other forms of passive income
✦ Or plan a blissful local or yoga international retreat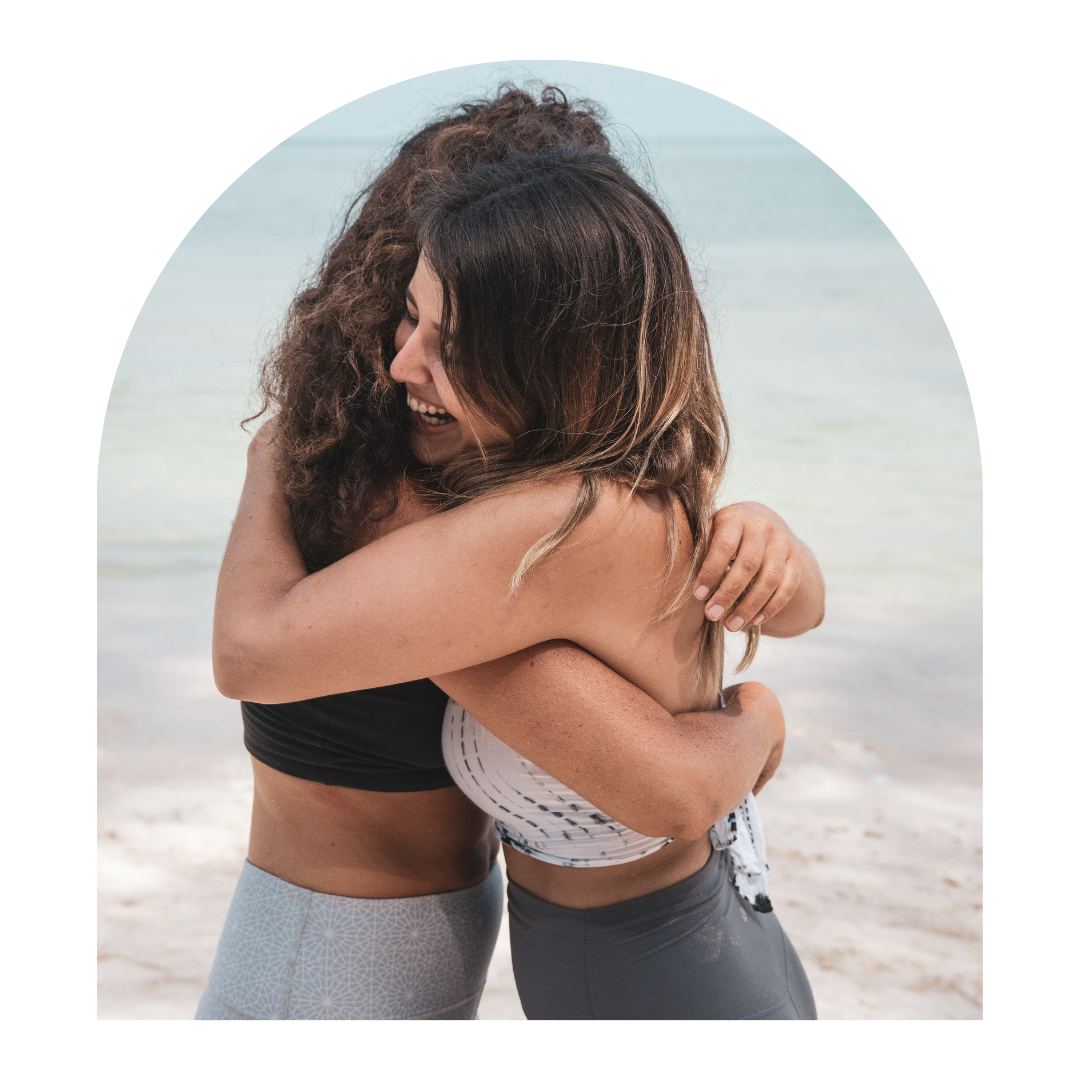 Together, we will...
✦ Build your confidence integrating and expressing anatomical concepts into your classes
✦ Unpack the Yoga Sutras in a personal and meaningful way
✦ Create an actionable & inspired strategy for your social media
My intention in offering this is to work more closely with you in and a small group of yoga teachers to help you build your confidence and career as a yoga teacher.
Together, we will refine your messaging, design specialized offerings, review and resolve remaining questions from your previous trainings, and craft and support your path to the teacher you are becoming.
The Mentorship Includes...
Three 1-on-1 calls | Just you & me to get really focused on your needs & intentions
Eight live bi-weekly teachers workshops + Q+A (90 minutes, times alternating on Mondays & Wednesdays)
Weekly challenges to inspire intentional action & evolution
Be part of a small supportive community of yoga teachers dedicating to developing their teaching and
Get lifetime access to my online class collection (120+ videos)
Receive eight Mentorship Workbooks including planning templates
Integrate the Yoga Sutras in our private book club
Ask your specific marketing questions to our special guest marketing expert in week 7
Replays of all live calls available our teachable platform for you to revisit
Includes my tech guide on what tech and platforms I find are worth the investment
Come behind the scenes of my little business and ask all the questions you desire
15 hrs of accredited yoga education
Teacher spotlight on my platforms upon completion
Throughout the 16-week program, we will slate three private 60-minute calls to touch base and support your individual needs and aspirations.
While I will suggest some general focus areas, this is your time and we can dedicate it to whatever aspects you would like to feel supported in.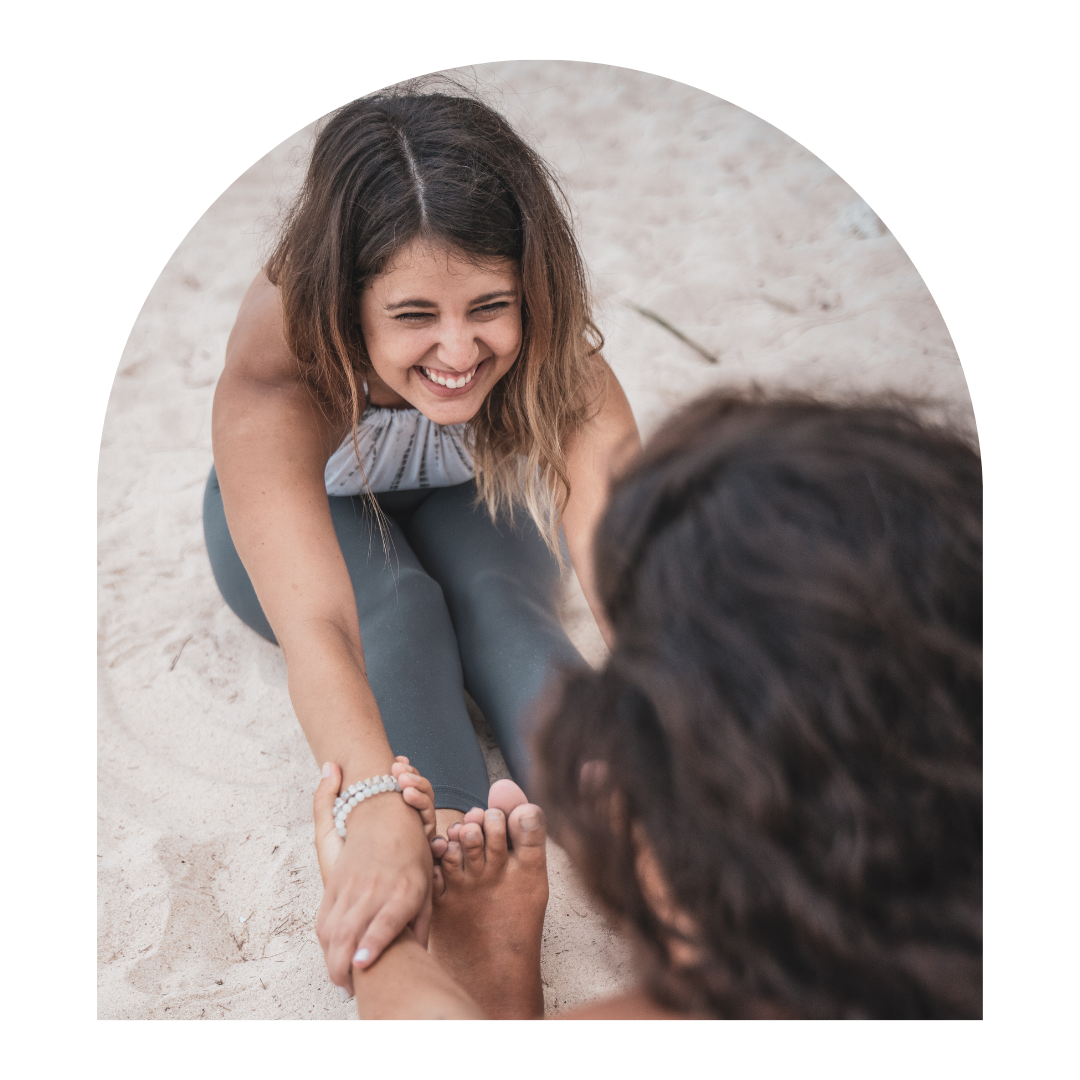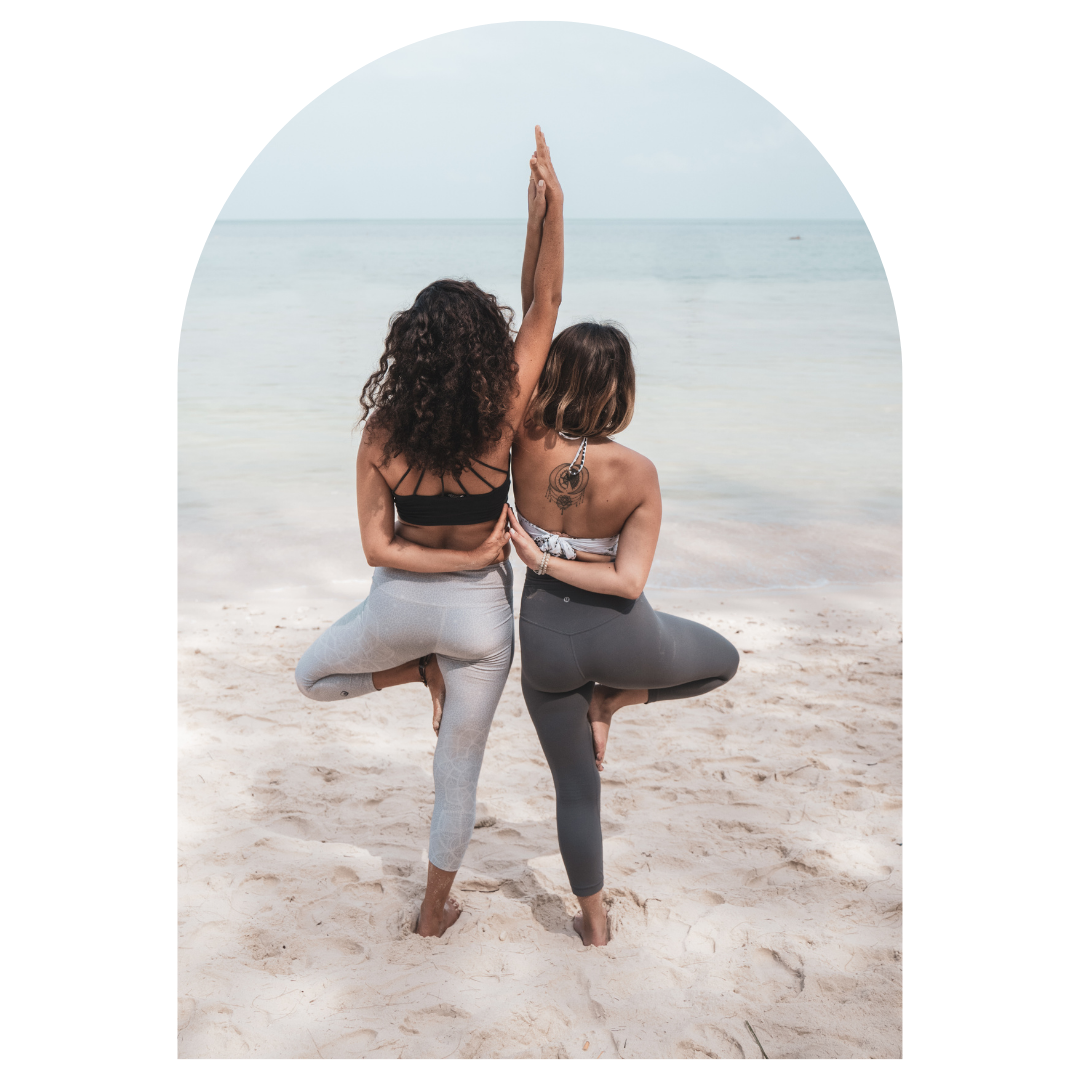 Excited & curious?
I would love to send you our info package on this mentorship process with all the details on the program.
Please just email me at [email protected]
Once your full or initial payment has been received, I will confirm your space in the program.
To maintain a supportive and personal learning environment, only a small number of students will be accepted into the mentorship.
The content of the membership program will begin unlocking on August 1st, 2021.
Check your inbox to confirm your subscription